Moinsen, everyone! 👋
I hope you're all doing fine. This week's edition of the Teesche Newsletter is packed with fast news, so get ready!
Last weekend, July 9th and 10th, Hamburg was host to the world's largest triathlon race for the 20th time. I myself have been taking part in it for ten editions so far, starting in 2011, with a break in 2012 (because Sophie and I had our wedding on that weekend of the race), and continuously from 2013 until now. Well, in 2020 the race didn't take place for obvious reasons, but for now it's back to normal. The amount of spectators are in the hundreds of thousands, and apparently there are around 7,500 athletes like us out there racing.
I have written about these great events a few of times. 2013, 2016, and 2019.
By now, it's our family tradition that my wife Sophie and I will do the Sprint Distance (500m swim, 20km bike, 5km run) on Saturday together, while I will then go on to do the Olympic Distance race (1.5km swim, 40km bike, 10km run) on Sunday. That way we have a fun activity for the two of us but I still get to race as fast as possible the day after.
Saturday's short race went really well this time – great weather, not too hot, not too cold. Sophie had her new triathlon suit and faster HOKA shoes, which certainly helped her reach a new personal best of 1:36 hours, nearly 6 minutes down from last time! I was always next to her – or 10 meters behind her on the bike because those are the rules – and supporting however I could. Running through that finish line gate together is a very special moment for me every year.
Sunday's longer race also didn't disappoint. Still, the weather was perfect, except for some winds during the bike course which made it hard to cycle in a straight line at times. A bunch of friends raced as well, and I was especially keen on beating my friend Mathias. Not easy, as he's a far superior cyclist. In the end, I was very proud of my results, reached a good new personal best as well, but Mathias was two minutes faster still, the machine! Kudos to him, and see you next year.
The swim took me 25 minutes, I cycled for 1:13 hours and ran for 41 minutes afterwards. Adding the really long transition areas between the three sports, it came out at 2:28:21 hours total, around a minute faster than my previous best time. Great weekend!
Right after the triathlons, we drove up north for a weeklong family vacation on the island of Fehmarn within the Baltic Sea. We'd been here last year and I had made the plan to run the perimeter of the island at that time. This year, it worked out. On Thursday, 6 AM sharp, I stepped out of the house with a full backpack to run around the whole island in one go, with the goal to do it faster than anyone on the fastestknowntime.com website.
It's 68.2 kilometers, and the time to beat was 6:33 hours. Doable, but still quite an effort for me. Especially because I decided to do it in the "Unsupported" category, which doesn't allow for buying any food and drinks along the way. You have to carry everything you need for the whole run with you, the only exception is that you are allowed to refill water from public and non-commercial sources, or, of course, natural sources.
Thankfully, after around 50 kilometers when my three liters of water were down to zero, I found a public tap and continued on the unsupported route. Plan B would have been just to buy whatever I needed and therefore move a step down to the self-supported category, making the effort slightly less awesome.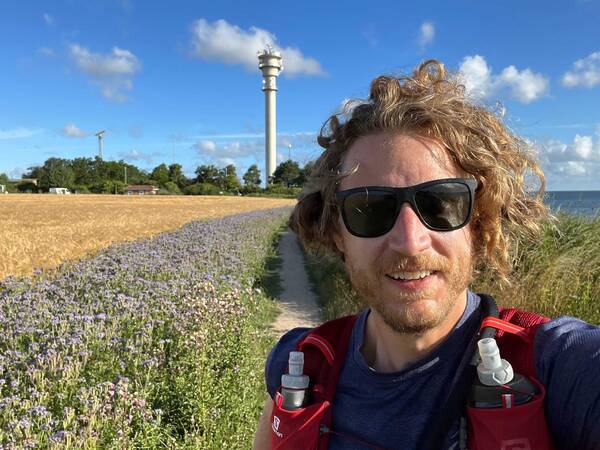 The fatigue and strong headwinds nearly killed my spirit somewhere in the middle, but with 13 kilometers to go I realized that if I really stepped on the gas right now, I could still make it. So that's what I did. It's been a fight, but a very satisfying one. After 6:29:39 hours (Strava activity link), I reached the point where I started, the whole loop, with new Fastest Known Time by just four minutes! And there it is, officially registered. The route is great and there's more to write about, which I will do in the coming days in a full blog post.
👂 Have you ever had the problem that water wouldn't leave your ears after swimming?
I have and I know quite a few people who have had that same problem. It's annoying and sometimes makes hearing harder. A few years ago I was at a routine check-up at my doctor's, and asked her about it. Very fittingly she used to be a competitive swimmer and had great advice. Basically, there are two options: surgery to widen the ear canals, or simply putting a tiny bit of olive oil into your ears before going swimming.
I went for the latter and didn't have any problems since then. I recommended the solution to many friends over the years and they have all been really thankful for it. So there you go! Use your clean pinky, dunk it in a bit of olive oil which is coincidentally also good for the skin in your ear, and turn it around in your ears for a bit, that's it. Water will slide out again a lot more easily now.
Bucharest in Romania. What an interesting city with an incredible recent history worthy of making a dozen awesome Hollywood movies about.
And the place of Europe's largest building, the Palace of the Parliament. Look at this beast!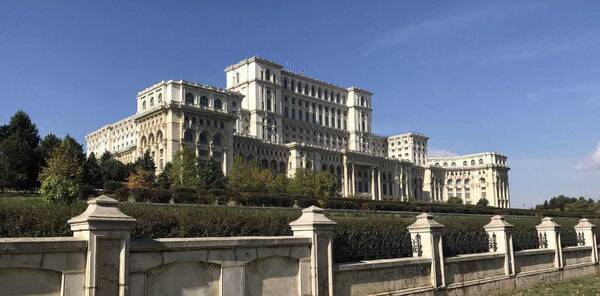 Recently, one of my favorite YouTube guys, Ali Abdaal, released a book recommendation / summary video about Bill Perkins' Die With Zero. This resonated with me quite a bit and maybe you can take away something from it as well.
The basic principle is that money is a tool we should actively use to make ourselves and others happy during our lifetime (as opposed to afterwards). Many people have lost sight of that fact, myself included sometimes.
While there's a bunch of interesting points, one got me the most. It's how you will gain a lot more from making great experiences early in your life as opposed to later in it. Don't postpone. In your twenties, you're having lots of time, flexibility, fitness, but little money usually, while when you're in your 60s, 70s, the situation is quite the opposite. Taking that once in a lifetime trip to the place of your dreams will give you 50 years of fond memories if done in your 20s, but maybe just around 10-20 years of fond memories when you do it in your 60s. It pays a sort of dividend over your lifetime.
I enjoy these ways of reframing things to make some facts more obvious to us. Here's the video – and if you liked this week's edition, share it with someone who might like it, too! 🙏
All the best to you all,
– Teesche