Goals 2019: State after July
Alright, another month gone!
Review the original post, January, February, March, April, May, and June here.
All in all, it's again been a good month. I seem to be stabilizing after awful May. I'm glad.
Goal 1: Run one Marathon per Month.
✅ Result: 1 marathon as part of the Ironman Hamburg.
A bit late in the month, on 28th of July, I successfully finished that Ironman race on my 35th birthday. It's been great, separate post is coming. 3:56:52 was the time I needed for those 42.2 kilometers after 3.8 km of swimming and 186 km of biking.
My total of (ultra)marathon races in 2019 is now up to 10, plus my solo 100k run which I choose to not count because it wasn't a race. So I just have two more to go until December 31st. Nevertheless I will try to do at least one per remaining month because it's fun.
Goal 2: Run 2,000 Kilometers (166.67 per Month).
✅ Result: 219.14 kilometers
Solid month. New total: 1.563,83 or nearly 400 kilometers of excess running so far. Doesn't seem like much of a problem to complete this task.
Goal 3: Run Every Other Day.
✅ Result: 17 runs.
I'm still working on making up for my depressed May. It takes longer than I thought, but I'm getting there. Now I'm at 105 runs after the first seven months of 2019, 77.5 to go. 212 days have passed in 2019 on July 31st, so that's 106 runs. Meaning, I'm just one more run short. That's doable!
Goal 4: Walk 5 Million Steps (13,700 per Day).
✅ Result: 13.956 steps on average.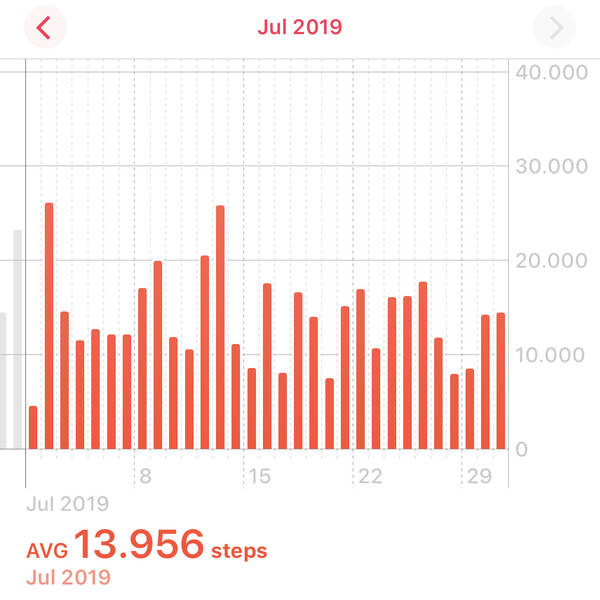 A weird thing happened here. I did three triathlons in July and all of the steps during those events are missing here. The reason is that you usually can't bring a phone on a triathlon, because you're swimming also. My Garmin fenix 3 HR sports watch usually counts the steps when I'm running without a phone. Not during the tracking of a triathlon activity, though. That was news to me and I thought it's a bug. So I contacted the Garmin support but they could only confirm this shortcoming of the watch. So, this month's tracking has roughly 60,000 steps total missing to my best guess (5k short distance triathlon plus transition zones, 10k olympic distance triathlon plus transition zones, and a full Ironman marathon run plus transition zones). That would bring the average up to 15,900 steps per day. Yeah, well. Doesn't matter.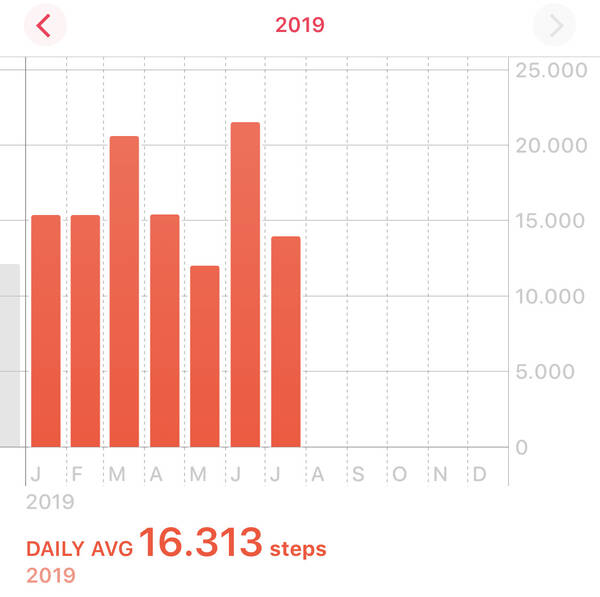 Goal 5: Read 12 Books (1 per Month).
✅ Result: 3 books.
I've really gotten into reading, lately. I think that's mainly due to the right kinds of books I chose – ones, that really sparked an interest in me.
On July 9th I finish David Eagleman's The Brain, The Story of You, which was a nice and easy introduction into neuroscience. I learned a lot more about how our brains work. Useful stuff. It also had lots of "Whoa, Dude!" moments and wasn't too drawn out. I enjoyed some tangent stories like the explanation of the Simulation Theory or the brain mapping project.
July 16th, I finished Martin Sonneborn's Herr Sonneborn geht nach Brüssel, a German book written by comedian/writer turned politician Sonneborn, who surprisingly got elected into the EU parliament in 2014 and told the story of the inner workings of the place during the 2014-2019 period. It's interesting because no other MEP would ever publish information like it is done in here, in order to protect themselves and their parties. Sonneborn has nothing to lose, so he tested it all and remained absolutely truthful in his accounts. His journey from being the dadaist observer to slowly becoming aware that he can actually influence things he really cares about is just captivating. A national treasure, this man.
July 21st, Jesse Itzler, Living with a SEAL. This was a short one and just plain fun. Itzler is an entrepreneur and self-made millionaire with a poor background but a strong drive to self-improvement. So he hires a Navy SEAL to get him fitter. That SEAL is David Goggins, which is why I bought the book. Goggins appeared on my radar a couple years ago, and seems to be one of the world's toughest and most strong-willed men. Goggins makes Itzler do lots of sports every day for 31 days, Itzler tells a few fun stories about his life, but all in all it's rather repetitive and has no real benefit for the reader except a few hours of some fun. Main takeaway: push-ups seem to be one of the best all around fitness routines if you would like to get in shape. Well, okay. Afterwards I moved right on to David Goggins' new autobiography. Much better.
As with the marathons, I'm also almost done with my book goal for 2019. Now I have finished 10 of them and just two to go if I just wanted to reach my goal. Here as well, I'll keep reading at least one new book per month until the end of the year, I've decided.
---
Good month! Reached all goals, just the total runs count is one short. In August I'll hopefully get rid of that one, too.
How do you feel after reading this?
This helps me assess the quality of my writing and improve it.