Goals 2019: State after June
Half way there! What's the status after the first six months?
Review the original post, January, February, March, April, and May here.
I'm glad I rediscovered my lost Mojo after the terrible month of May. Found the spirit again and had lots of fun running again. Close one.
Goal 1: Run one Marathon per Month.
✅ Result: 3 marathon races and one 100 kilometer solo run.
Right on June 2nd I ran the quirky Elbtunnel Marathon, likely a once in a lifetime one. With a result of 3:33 hours I was really pleased and optimistic about the next races. On June 9th I tried the 100 kilometer challenge for the third time and finally succeeded. That was an incredible feeling. And last, not least, there's the Double Marathon Weekend I completed together with my running buddy Jürgen. Two marathons on the weekend of June 22nd and 23rd. All in all, a very successful month regarding marathons!
Goal 2: Run 2,000 Kilometers (166.67 per Month).
✅ Result: 355.80 kilometers.
A new record month with more than twice the necessary kilometer amount as a result. Of course, the three marathons and the 100k run played a huge role here. Now, half the year is done I'm at 1,344.69 kilometers total, which means I have a comfortable lead of 344.69 to waste away slacking around. Or not. Probably not.
Goal 3: Run Every Other Day.
✅ Result: 19 runs.
After the lazy and demotivated May I squeezed in runs left and right. I did a few double run days, always making sure to have at least 5 kilometers per session, because that's what I used as the minimum requirement when I thought up the rules. It takes more time to make up for May, but I came a lot closer. The standing is at 88 runs, when 91.25 would have been required a this stage of the year. So, three more to go in July, in addition to the 15.5 which are necessary in any 31 day month, of course. Could be possible. If not, there's August.
Goal 4: Walk 5 Million Steps (13,700 per Day).
✅ Result: 21,520 steps on average.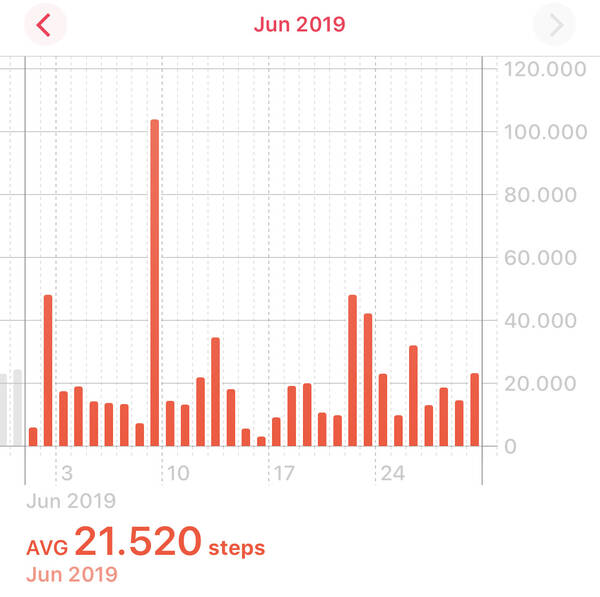 The big running days obviously gave me lots of steps. The 100k especially, I think that's definitely a new lifetime record I achieved there. More than 100,000 steps on a single day. Sounds quite a lot. 16,716 is the daily average over the first half of the year, which also is a great surplus over the necessary 13,700.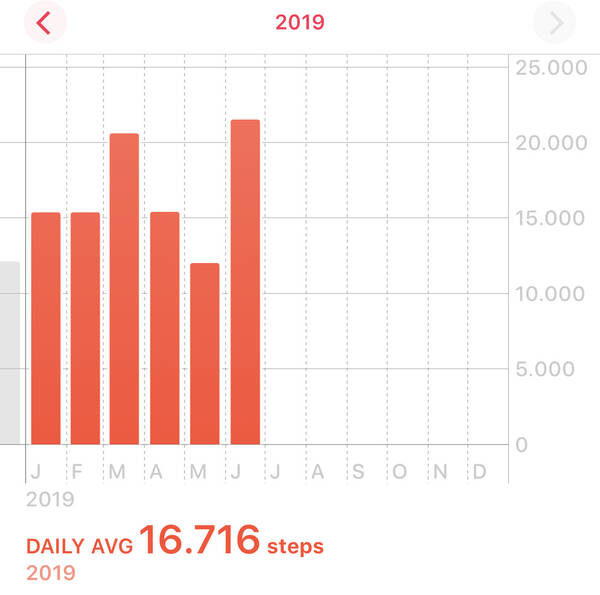 Goal 5: Read 12 Books (1 per Month).
✅ Result: 1 book.
Finally finished the rather long (by my humble standards) Creativity, Inc. by Pixar Studios founder and president Ed Catmull. It's the very interesting history of the company, written in a way that is supposed to teach you a few lessons on how to successfully run a company which has creativity and creative output as their products. Catmull does this overwhelmingly rationally while also giving enough space to emphasize emotional decisions and situations. The key thing seemed to have been to give all employees a voice all the time – in a structured way, of course. Everyone must feel the weight of the whole company and their own part in it in order to be content working for it. I think he never even once used the word "employee".
The late CEO of Apple, Steve Jobs, also played an important role in the book as he did in the company's history as the one who bought it and trusted in its eventual success while the company was still in its infancy. Catmull dedicates a heartfelt chapter to him, which was insightful and great to read. All around, a book I can recommend to almost anyone. On point, not blown up. Five stars.
This brings my yearly total to 7 books, which means I'm in the lead by one book. Currently I have succumbed to an old habit of mine, which is reading multiple books at once again. Not sure yet if that's smart.
---
I'm really happy to be back on track. In May I failed all 5 goals and now, in June, I succeeded at all of them. That feels a lot better and gets my motivation up. Just need to catch up on the number of runs to make up for the deficit. All doable.
How do you feel after reading this?
This helps me assess the quality of my writing and improve it.