Goals 2019: State after September
Review the original post, January, February, March, April, May, June, July, and August here.
The trend continues, September worked out very well regarding my monthly goals.
Goal 1: Run one Marathon per Month
✅ Result: 1 marathon. Won!
Quite late in September, on 29th of it, I did the Rauchwart Marathon for the third time. This time I was quite a bit more prepared and got lucky that no runners who are faster than me showed up. End result, me at the top of the podium for the second time in my life.
This also means that I'm now at 12 real marathon races total for the year. As stated, I'm not going to stop now, because the whole idea was to run one in each month and there are three months left. I already have the next few races planned out. 😉
Goal 2: Run 2,000 Kilometers (166.67 per Month)
✅ Result: 435.07 kilometers.
This is probably my biggest month in terms of kilometers ran ever. The reason is mainly my newly picked up training plan which demands about 100 kilometers per week. So far I'm keeping that up quite well and can feel the results. Turns out, running a lot is even more enjoyable to me than running just a little.
I also surpassed the 2,000 kilometers total for 2019 and changed the goal to 3,000. Pretty sure this will work out, too.
Goal 3: Run Every Other Day
✅ Result: 22 runs.
During this 30 day month I ran on 22 separate days. No double run days this month. That results in 144 runs total in 2019, a surplus of 7.5 runs and just 38.5 runs to go until December 31st! Absolutely doable. I'm feeling very motivated.
Goal 4: Walk 5 Million Steps (13,700 per Day)
✅ Result: 21,845 per day on average.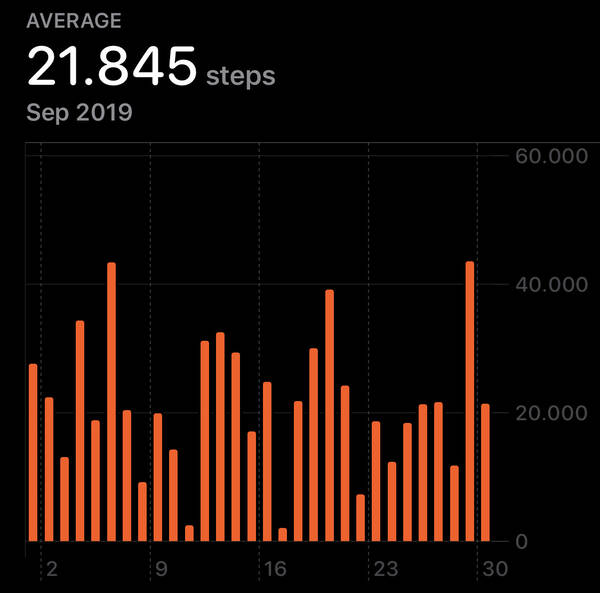 New record month of this year. Also, I'm happy there are just two days on which I was rather inactive. It's tough for me on some days to get the steps up – when I'm not running on that day and working at the desk instead, there's not much walking happening. The only solution is to have a run on every day. And so that is a new goal I'm thinking about following during maybe one of the next few months or even during 2020 as a yearlong streak goal.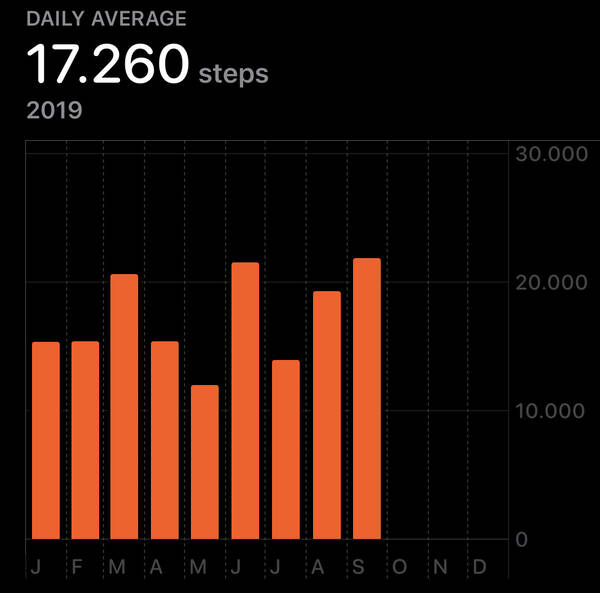 After these nine months, 75 percent of the year, I have done 4,710,840 steps total. Not much left for the 5 million goal, probably it will fall during October already.
Goal 5: Read 12 Books (1 per Month)
✅ Result: 2 books.
The total number of books I read is now at 13, so I have completed this goal. I'll continue to read a few books, but will probably decrease the speed in favor of more running, because I have more fun doing that. Here are the two books I finished this month with a few words about them.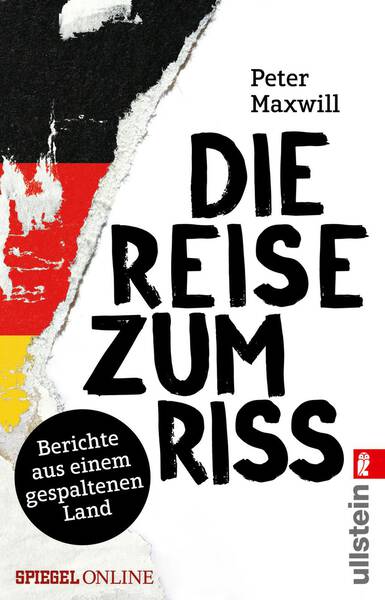 Peter Maxwill, Reise zum Riss
My friend's first published book, comprised mainly of the articles he wrote for Spiegel magazine during the years of 2015 to 2019. Thematically revolving around the increasing left/right political shift in Germany. What are the reasons, what do the people think, how do some live and make it work. It's promoting dialogue above all. Lots of different stories about very different people make it an easy and interesting read, but the analytical chapters in between were my favorite ones.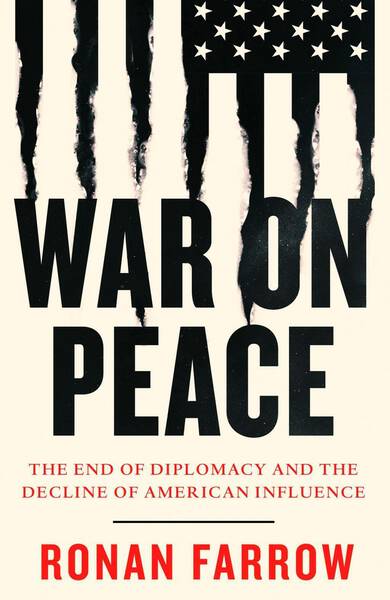 Ronan Farrow, War on Peace
Uber-talented young diplomat, son of Mia Farrow and Woody Allen, Pulitzer prize winner during his early 30s, writes this book about the decline of diplomatic solution searching in global politics and the rise of the military as a method of interaction between countries. He worked in the Obama administration under Secretary of State Hillary Clinton for many years and has seen a lot in his young age. The main topics are Afghanistan and the Taliban, but also Colombia and Syria. You get to see how the diplomatic machinery works and why it's seemingly off the rails at this point. The book was a bit tedious and self-congratulatory at times, but I enjoyed the little window into global politics.
---
Good month! Full 100 percent. As most of the goals are now completed or nearly completed and I feel confident I can keep it up until the end of the year, my thoughts start revolving around the goals I would like to set for 2020. A streak of 365 runs, one on each day, 5 kilometers minimum I'm thinking, is on top of the list. This is going to be very tough to complete, so I need a good plan for that. Can I do it?
How do you feel after reading this?
This helps me assess the quality of my writing and improve it.