Goals 2019: State after October
Review the original post, January, February, March, April, May, June, July, August, and September here.
I'm going to follow through with this until the end of this year, 2019. Just two more months to go and then it's finally time for new goals – I must admit, following these ones on a daily basis starts to bore me, especially since most of them are already completed by now.
Goal 1: Run one Marathon per Month
✅ Result: 2 marathons, one of them a 50k ultra.
Exceeded this monthly goal by 100% by completing Heidelberg Long Distance Trail, a somehow challenging yet relaxed 50k with 2,000 meters of elevation gain around the pretty town of Heidelberg, and Frankfurt Marathon, the culmination of 8 weeks of focussed speed training.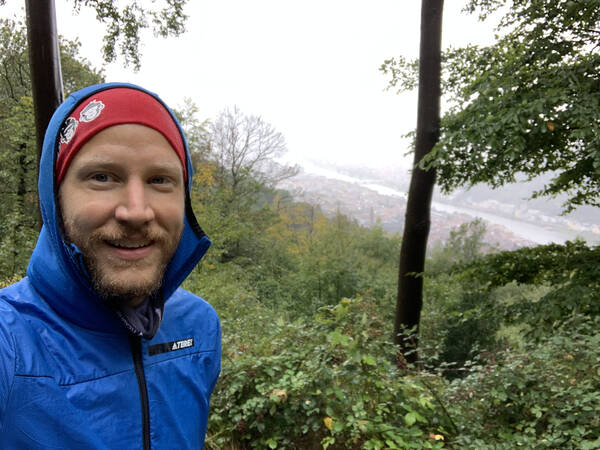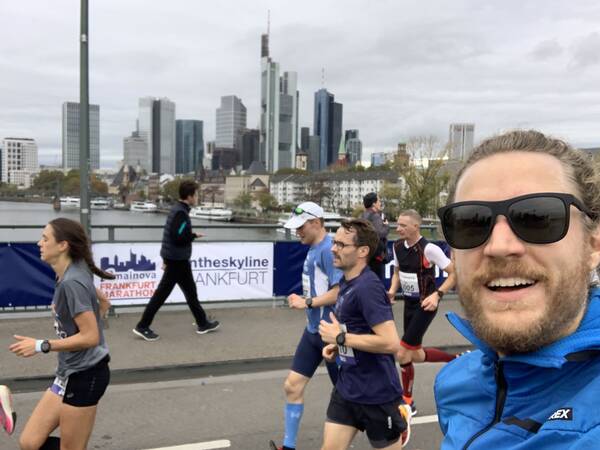 Total marathon race count of 2019 so far: 14.
Goal 2: Run 2,000 Kilometers (166.67 per Month)
✅ Result: 346.85 kilometers.
Due to the continued focussed training effort, these kilometers just kept on piling up. The second goal was therefore also exceeded by 100%. Last month, I revised this goal and changed 2,000 kilometers to 3,000 kilometer for 2019. After October, I'm at 2,634.45 kilometers, which is also ahead of the relative kilometers necessary to reach 3,000 at this point.
I have a few more races coming up until December 31st and plan on continuing a somewhat structured training, including tempo runs, intervals, and long runs. So I'm estimating to reach a bunch more kilometers until the end of 2019.
Goal 3: Run Every Other Day
✅ Result: 19 runs.
October was a 31 day month, which means 15.5 runs for me. I did 19, and now I'm at 163 in total. That's just 19.5 left to do until December 31st and a current surplus of 11.
I have thought about revising this goal for 2020, as it's actual meaning, literally running on every other day, isn't practical for me. As you know, I have therefore switched to measuring this by the month. For 2020 I'm thinking to switch to the possible new wording of "run three (or four) times per week in every single week". This makes more sense and is easier to do while still creating a very similar result – keeping fit.
Goal 4: Walk 5 Million Steps (13,700 per Day)
✅ Result: 18,916 per day on average.
Similar to Goal #3, the wording of this goal wasn't clear enough. While I failed to do 13,700 steps on many single days, I have reached 5 million total during October. It's incredibly hard to do a certain high number of steps on every single day, I've found. Road trips, office days, long-haul flights… there are many challenges.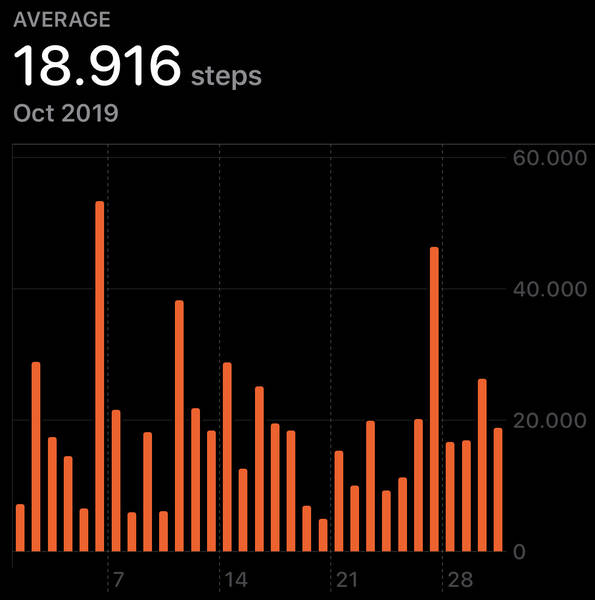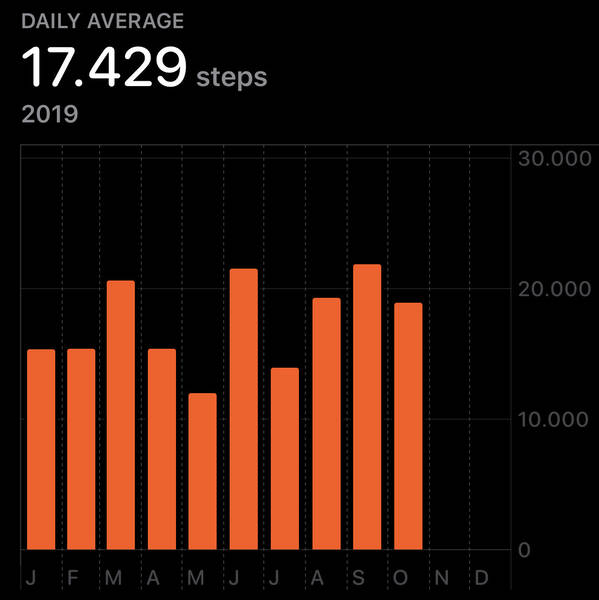 I'm almost sure to kill this goal for 2020. I realized it's more or less meaningless in the bigger picture I'm following, but still gave me daily endorphin withdrawal symptoms comparable to checking social media. I got rid of that, too, for this reason. In other words, I had to check the steps sometimes multiple times per day, but the numbers mean nothing in the end.
Goal 5: Read 12 Books (1 per Month)
✅ Result: 2 books.
This is still fun and challenges me to follow through with the reading. I'm happy I chose this goal. This month was slightly special, because I have read an unusual book, as well as a book published by a friend of mine.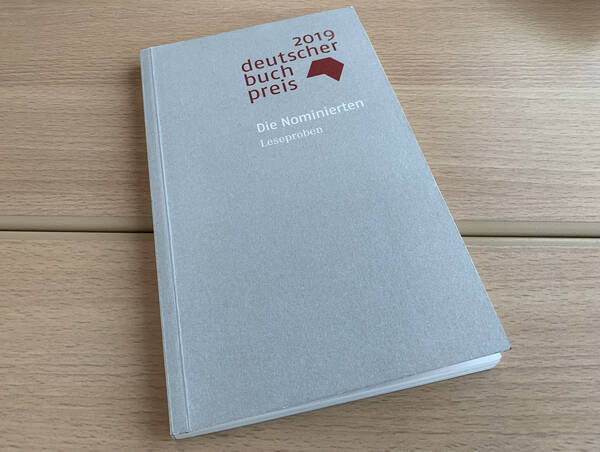 Together with my friend Vera, I read this book and made notes for all the 20 books which are nominated for this prize. What's it about, do I think it's interesting, well-written, relevant to me? This exercise has been fun and gave me a better idea of what current books in Germany are like. Some I found rather intriguing, most of them dull and weird or boring, though. Still, this was worth my time and I'm looking forward to reading the next year's edition as well. Vera and I decided to choose our winning book and read that afterwards, but haven't had time yet to compare notes on the stories.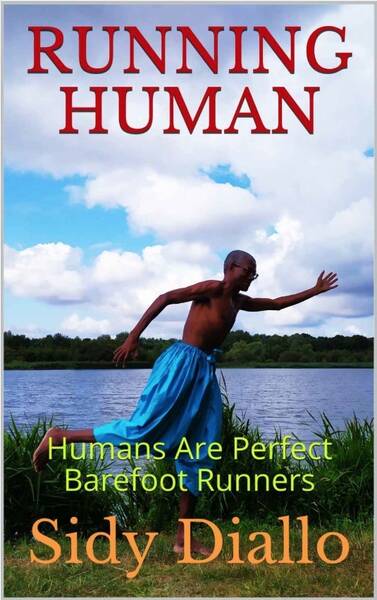 I have first seen the author, Sidy Diallo, at Tallinn marathon in 2015, written in my blog about him, and subsequently received an email from the man himself. We conversed and met again at Paris marathon 2016 and Pisa marathon 2018. Turns out, he's not only a very smart, friendly, and funny guy, but he also has the most amazing life story. Born in Guinea into an average family, he went on to learn a number of languages, became a medical doctor after studying at the university in Havana, Cuba, went on to complete studies with degrees in political science and international law, became a French citizen and diplomat to the country to live in many interesting places on almost all the continents. Wife and three sons. Then, at 55, he got into marathon running – the first, most important, and best sport that Homo sapiens can do. That's what his book is about and it can teach us all a lot. Buy it here.
---
Another fully successful month. As the year is coming to an end, I start thinking about the new goals list for 2020. It's without question that I'll continue with these lists for the time being. Gives me joy and helps me to improve. A few possible optimizations were already mentioned above, but additionally I'm thinking about doing a year-long concentrated effort to learn a third language. French, probably. Something like 5 hours per week minimum, a mix of an online course and in-person sessions with a teacher, possibly. It sounds fun to me right now.
The running will stay similar, but I think I'll add another goal to do 2 marathons in 2020 for which I'll specifically prepare to do a new personal best again. Doing that now in September and October was fun and there's more potential. The other 10 marathons (to reach 12 again) can be interesting special ones, or just relaxed buddy races – we'll see!
Another change I'm definitely making in 2020, is reducing the blogging about these goals. Once per month is too much for me, so I'm thinking about doing quarterly updates instead. Saves more time for the actual goals.
Thanks for reading and feel free to tell me about your goals or give suggestions in the little box below!
How do you feel after reading this?
This helps me assess the quality of my writing and improve it.