Review of 2021
One of my favorite parts of the end of the year is taking some time to reflect on how it's been going. What went well, what not so much, what can I improve for next year? Have I reached the goals I set for 2021, were they the right ones? What were the highs and the lows?
This is the sixth year in a row I'm doing it publicly. If you want to see the development, read Review 2016, Review 2017, Review 2018, Review 2019, Review 2020.
This year, I put out a status post at the halftime mark. My first observation is, twice a year isn't enough. Setting new goals just once a year, neither. That's why I will now copy big corporate behavior and set quarterly goals instead. I'll give myself roughly 90 days to do something worth doing and afterwards reflect on it, starting now. It seems to be a better idea to me. But I'm getting ahead of myself.
For now, I'm thinking about this recent half year, spanning from the beginning of July to the end of December 2021. What have I done, learned, experienced?
All in all it's been one of the most diverse years for me. The highs were particularly high, the lows seemed to be lower than they've been in a long time.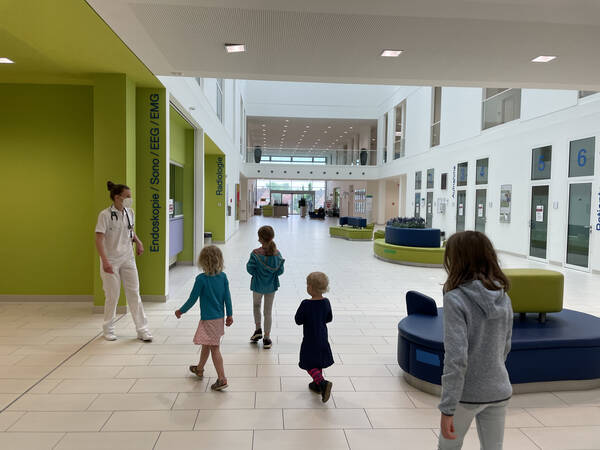 The most frustrating part, honestly, is that we're still in a global pandemic which is severely limiting our ability to enjoy this planet and all of its opportunities (while still killing way too many of us). Two years in, we're actually worse off now than when we still hadn't developed the vaccines a year ago – because a significant portion of the people apparently doesn't want to help everyone get out of this. It seems like one of those school projects in which you're the only one doing the work while the others are slacking off. I'm ranting – and we've all had enough of this topic, so let's move on.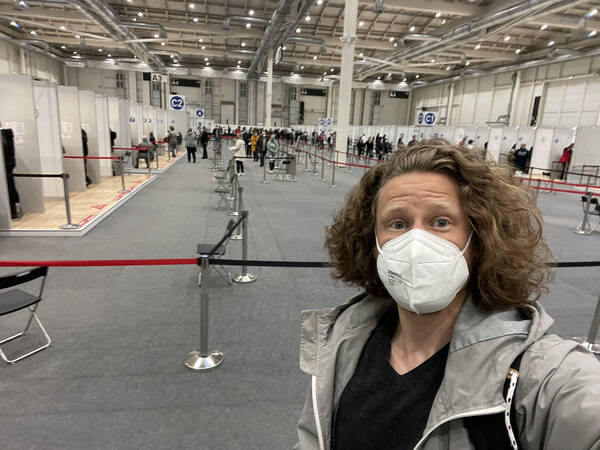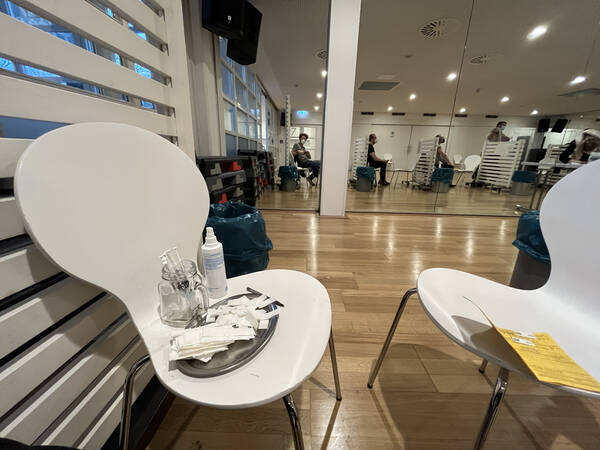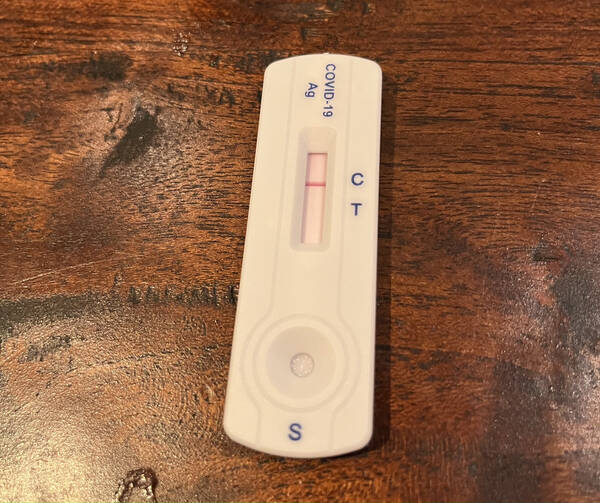 🌈 The Year of Stability
I set an overarching personal theme for 2021 this time – inspired by CGP Grey. I chose stability in particular because the mentioned global situation didn't seem to be one in which taking calculated but unnecessary risks would be a wise option. In addition to the calming effects of this theme I think it helped me be content with the output I produce. Wanting more, growing, the whole self-improvement thing, it's been good to let it plateau for a while and figure things out more carefully. Especially professionally, it turned out to be the exact right call to keep it cooking for a while before adding new ingredients, so to speak.
My new thing will end that, though. I'm looking forward to making some changes in a few areas which I'm feeling enthusiastic about at this point. That'll be another post. Back to 2021.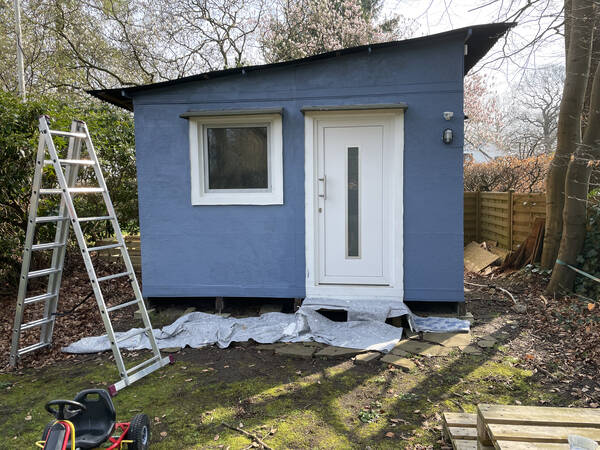 12 & 12 (Marathons & Books)
One of the stability related goals was to run 12 marathons and read 12 books, just as I had been doing for a bunch of years now. The year ended at 12 and 18, respectively, so that's a ✅.
Again, this was perfect for me. The "mandatory" marathon runs helped me keep the motivation up there and it's been comparable regarding the books. This is a habit which I intend to keep and make no changes to it.
🏃‍♂️ Running 12 Marathons
Running was a mixed bag this year, mainly because of an unfortunate ankle injury in early May. This kept coming back and to this day I haven't found the perfect solution to the problem. The best observation I have made is that more running seems to help it and less running seems to make it worse, so that's a relief.
This led to almost three months without full marathons during the summer. Understandably, this frustrated me and also put my emotional state in a slump. But, I bounced back. Starting in July, I did exactly one run of marathon length or more during every of the remaining six months of the year. And these were all something special, too! Here's the complete list containing the ones I've mentioned in the previous post and some more infos on the runs of the latter half of the year.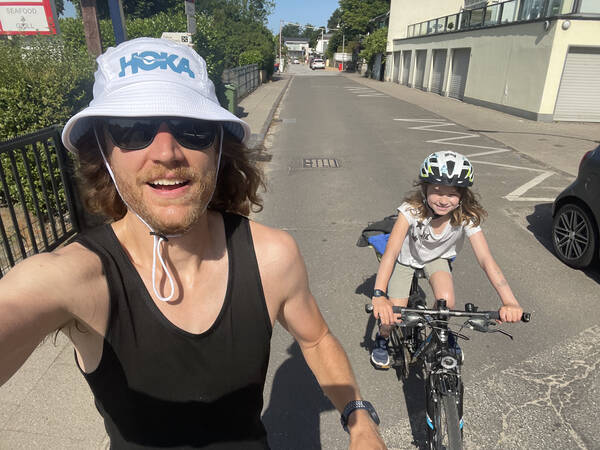 ☀️ This started out as a jokey idea. Both the numbers 69 and 420 are among the internet's favorites (I won't explain to those who don't know, just google it), and I found that these work well to get to a marathon distance. When you put 200 meters of floating (relaxed slow running) in between those faster 420 meter intervals, and do that 69 times, you end up at 42.780 kilometers – just above 42.195.
It's been a particularly great summer day and my oldest daughter Julie felt up for the challenge to accompany me the whole way on her bike carrying lots of water and sunscreen for both of us. Great day, great memory – and not the worst finishing time of 3:39 hours due to the 420 meter intervals which I usually did at a pace of around 4:45 min/km.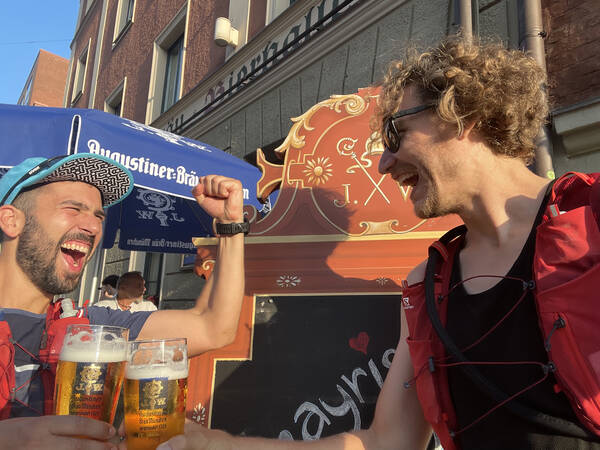 🍻 Another definite highlight of the year, 72 kilometers with my friend Nico through Munich with lots of beer. We visited all 7 official Munich breweries and had a beer of each. Read more about it on the separate post I published at the time.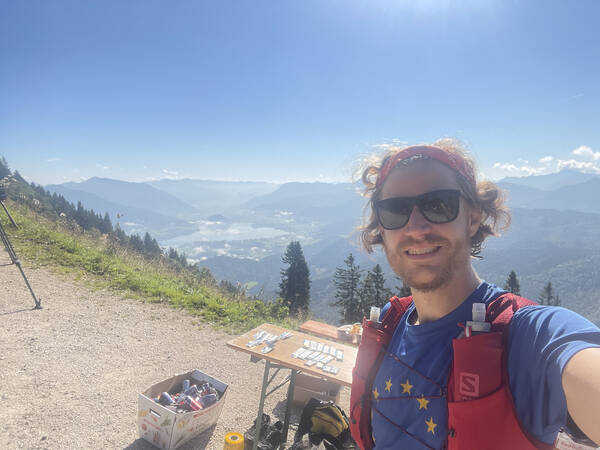 🎶 This was the number one of 2021 for me. My first ever race with more than 100 kilometers in length and first ever qualifier race for the Western States 100 Endurance Run lottery. Spoiler: I didn't win this year, more on that topic later. This race and the whole weekend in Salzburg surrounding it were a through-the-roof boost in happiness for me. Absolutely stunning area, no major issues with my body, and a huge new achievement for me. The sore muscles lasted for a week and I think my body actually needed more like 1-2 months to fully recover. Tough, but totally worth it. Here's more on it.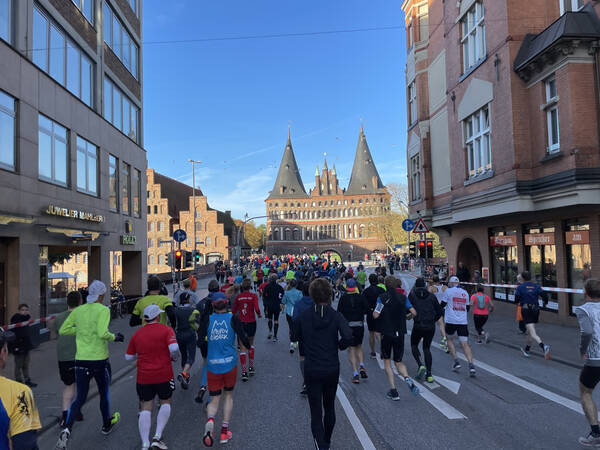 🌊 A pretty city not far from Hamburg, its marathon oddly never really crossed my mind before. The event itself was well done despite the necessary restrictions and I was glad I made it to the finish line as I was really still recovering from Mozart and a little ankle pain relapse. This was more like a breakthrough run for me, getting the Mojo back, so to speak. The course wasn't amazing, especially when compared to Mozart, but it was a solid 7 out of 10 for a city marathon.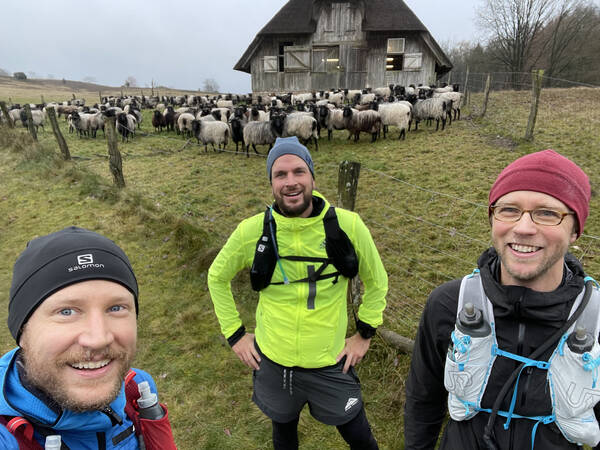 🐏 My friends Mathias and the Amazing Mister Manzino™️ wanted to run their first ultra. And who am I to say no to that. Mathias planned a good route along Heidschnucken trail south of Hamburg and we plowed through the slightly hilly area on a cold and moist November day. It was supposed to be a 60k run, but after 30 I felt that cursed pain in my ankle again and had to cut it short. The remaining run/hike towards the nearest train station during snowfall at least got the count up to more than 42 kilometers for me. Mathias and Manzino made it all the way, finished strongly, and I picked them up in the warmed-up van. For me personally, this could have been tagged with "glad that's over".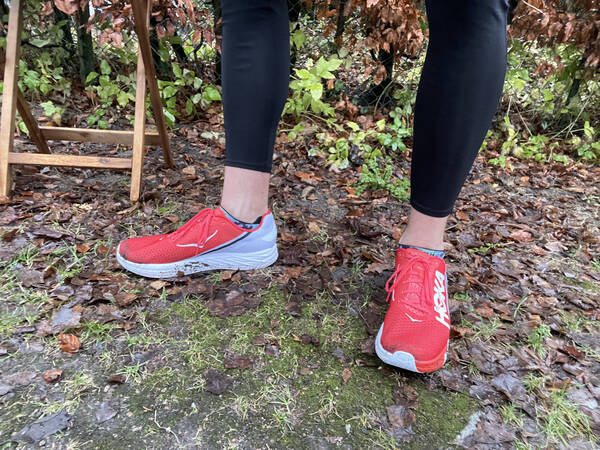 🔁 This one could have been tagged with "no ideas left" or "sheer laziness". After spending so many kilometers on all the same streets in my neighborhoods, I thought of going all in and do the simplest possible street route for a full marathon run. So that's what I did. A lap around our block is just over one kilometer. A few days before, I got myself new racing shoes which had to be tried out. Hoka One One Rocket X these are, and left me blister-less and pain-free although this was my first run in them since picking them up at Lunge (that new website was made by my company, teege.me).
Conclusion on Running 12 Marathons
The number is still great. During the fall season I felt a bit of pressure rising up regarding my ability to make it to 12 with my hurting ankle.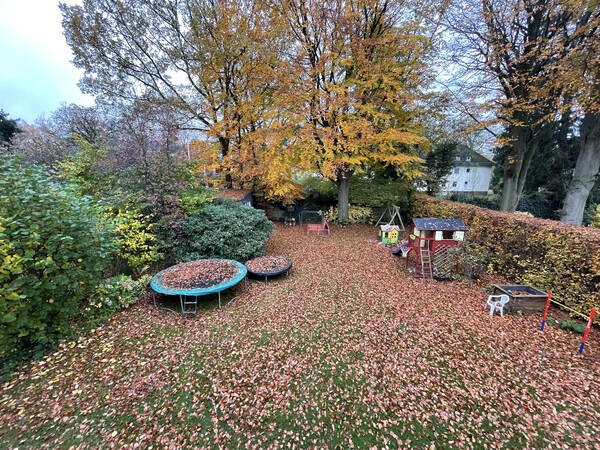 But it turned out, if you set your mind to it, you can achieve these things regardless. Ideally I would have liked to do a few more than 12 marathon runs, and in a perfect world a few more real races in nice places would have been among them, but I am especially grateful I got to experience Mozart 100 this year. Definitely my highlight.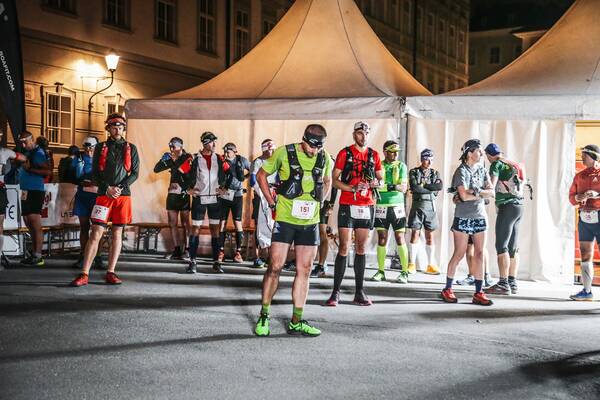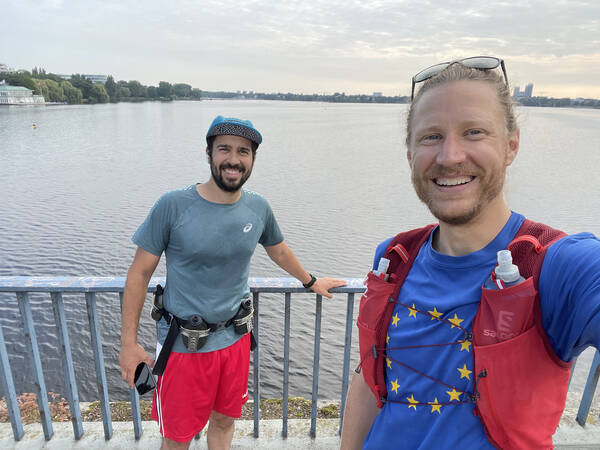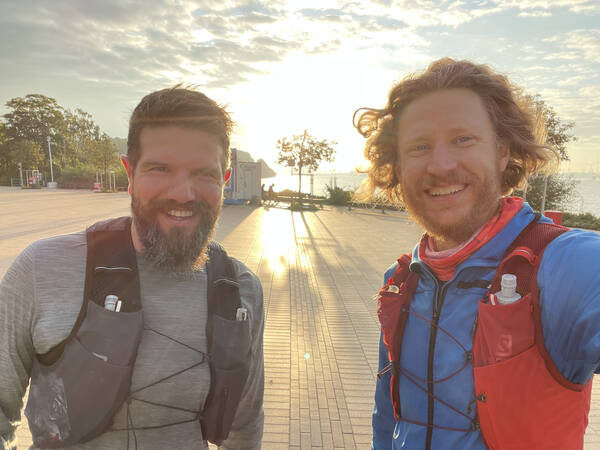 📚 Reading 18 Books
I recently came across this quote which possibly originated from Naval Ravikant:
Read what you love until you love to read.
The reading habit is something I deliberately started a few years ago because I used to never read any books. This must change, was my thinking. After all, it's one of the best ways to learn, think, relax, and also engage with society. There's so much more to find out about which could potentially enrich my life. But it's not a passive leisure activity, instead it requires focus, which is probably why I didn't choose to read in the first place. Laziness can't keep standing in the way, is my thinking.
And when you decide to make reading books a part of your life again and cut out those hours from your busy day for it, it has to be worth it, right? So the choice of books is important, right? The books I read have to somehow help me so the time is well spent?
💡 That quote helped me realize that the key is to enjoy what you're reading. If it doesn't help you measurably, doesn't contain any truth-bombs which are useful in life, but instead just entertains really well and captures your attention, that's good enough.
This is how I managed to read a lot in 2021. 18 books is my new personal best, but the amount of total read pages is second place (5.008 pages in 2021, 5.252 pages in 2019). Counting the pages in the three books I'm currently reading, I might have tipped over, though.
Here's the complete list, you can find my sometimes elaborate opinions on them all in the bookshelf section of this website or when clicking the books here.
Conclusion on Reading 18 Books
Absolutely worth every minute spent. I will try to make reading an even bigger part in my life, but I won't connect that to any more goals. 12 as a minimum still seems to be a good enough motivation. Also, if you have any book suggestions, let me know. My list of interesting books to read is at 41 right now, an all time high, but that doesn't mean I'm going to read them all first before considering a new one.
❤️ My favorite books of these 18 in 2021 were Evan Ratliff's "The Mastermind", Julie Zhou's "The Making of a Manager", Michael Collins' "Carrying the Fire", and J.R.R. Tolkien's "The Hobbit".
Highlights and Low Points of 2021
First, the worst. Number one would be my daughter Ida's bike accident in May. She's okay, but it was a horrible moment witnessing her high-speed fall without being able to do anything about it. Then, there was a vacation in northern Italy we took in October which consisted of just rain, cold weather and bad food. My ankle injury wasn't great, too, I started and DNF'd the Munich Marathon in October due to it after just 17 kilometers, and there was a stretch during the fall season when my company struggled a bit which stressed me out to an extent.
Could have been worse. Now the best things of the year.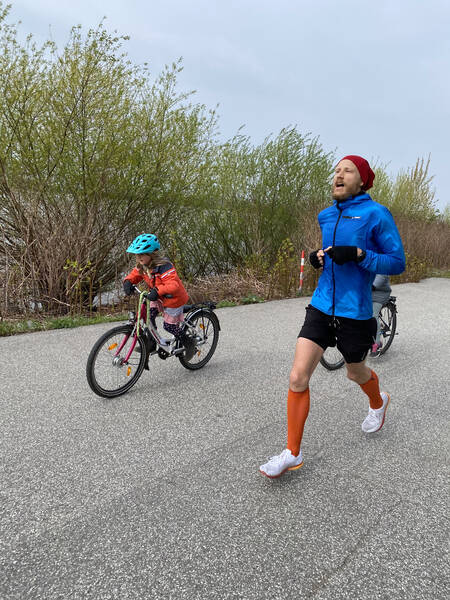 Next to my new athletic achievements of a Sub-1:30 hour half marathon and the successfully completed Mozart 100, I was glad I got to share a bunch of runs with my wife Sophie, in addition to us both taking part in the Hamburg Triathlon sprint distance event. We've been doing that a few times and it's always so good to swim, bike, and run through the city next to her, sharing this hobby.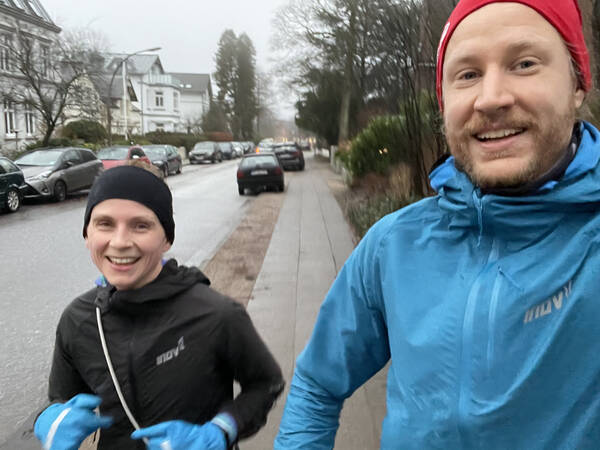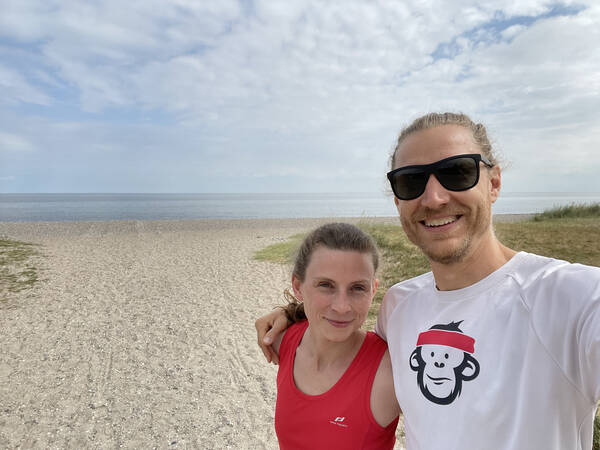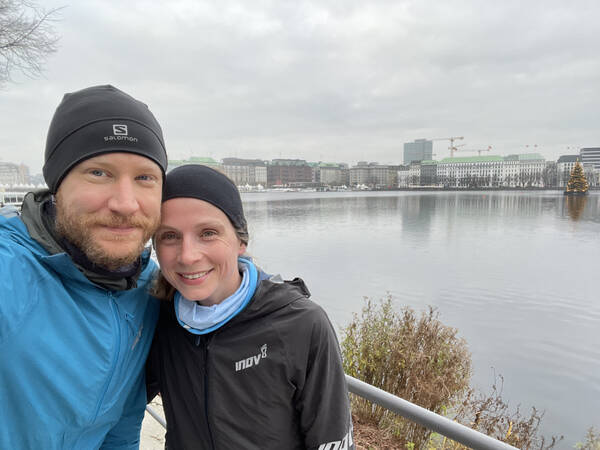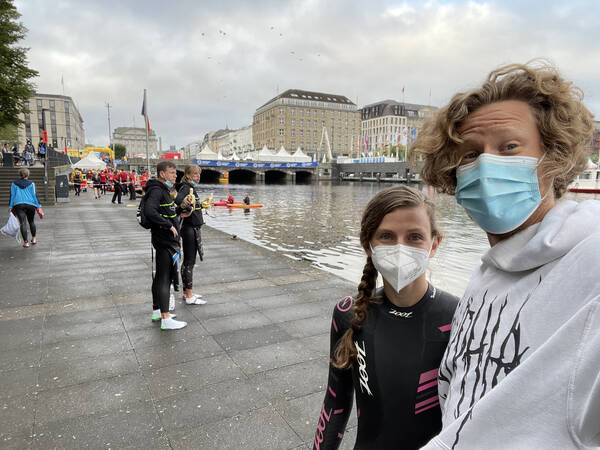 🍦 Then, there were two kid related highlights: I went on a weekend trip to Copenhagen with just my second daughter. This type of intense and focussed one on one time is rare and precious and we both enjoyed it a lot. She recently told me that this was her highlight of the year, too. 🥰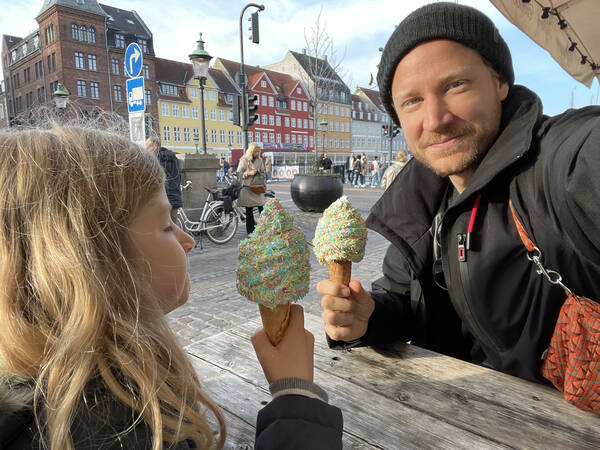 🚀 My oldest, who turned 10 a few weeks ago, wanted to host a slumber party for her 13 girl friends. This sounded insane but we complied with a "challenge accepted" mindset. For certain, it's been a huge amount of planning and work and both Sophie and I were incredibly exhausted afterwards, but the girls just had so much fun – and as a bonus, the parents of the 13 girls were all very grateful for having a free babysitter for the night. So in the end we made about 40 people happy at the same time just by taking one for the team. Talk about efficiency!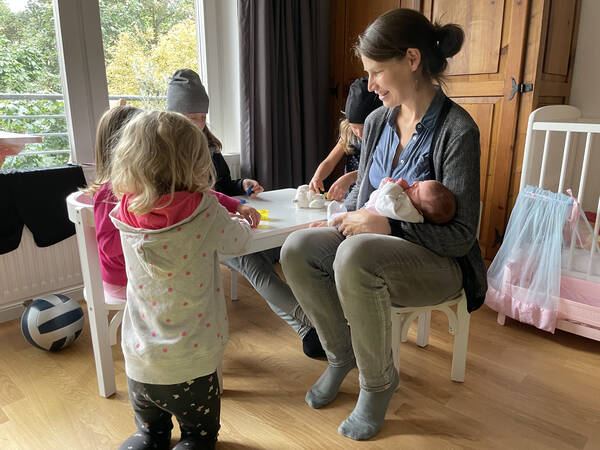 🎯 The Other Running Goals
No new marathon best this year. I wanted to get closer to 3:00 hours, maybe to around 3:05, but my best marathon in 2021 was just 3:39. I'll try again next year.
Breaking the 40 minutes barrier on the 10k distance also didn't happen. I got close to it in April, and I think I can get back there this coming spring. Not a priority, though. More like a fun side effect of marathon training.
Do a 100 mile run. I just didn't feel like it. The Mozart was my main achievement regarding length and difficulty of a race and that's more than good enough. My ticket for the Tarawera 100-miler in New Zealand has been postponed to 2023, because of the usual. I'll scratch that goal until the stars align properly.
∑ Total Run Distance
I didn't set a goal at the beginning of 2021 because I felt like it was stressing me out. Halfway through the year, though, I decided to set it at 3,600 kilometers because at that point it felt possible and motivating instead. A bit later, I increased it slightly to 3,650 km, which is the number of days of this year times ten. It became a struggle when I couldn't run for two weeks in November due to getting a vasectomy, but it was possible for me to bounce back. Another cold and a cough, as well as two slow days of COVID booster vaccination repercussions made it interesting at the end of December, but I did it. December 28th, close call! Ten kilometers per day on average in 2021. 💪
📊 Some more stats. The total came down to 3,665.1 kilometers over 245 separate runs. That last number is a new all-time high. It amounts to 10.01 kilometers per day and 15.0 kilometers per individual run. Also, I conquered 26,200 meters in elevation and all of that running cost me 362 hours. 15 whole 24-hour-days of the 365 available ones in 2021 I spent on my feet running. 🤯 No regrets, obviously.
Running Streaks have been interesting to me this year. In June I did another #10keveryday which led to 425 kilometers total during that month. Starting July 9th, I decided to do an open-ended streak of at least 5k per day. This got intense a few times, most notably when I cycled around Hamburg with Christoph for 171 kilometers and afterwards had to put on the running shoes, still. In the rain.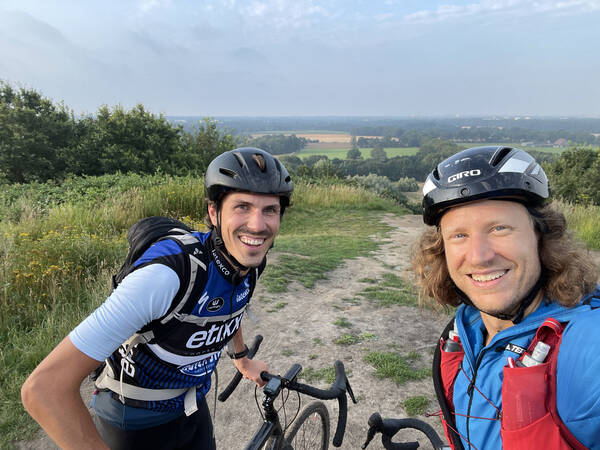 The day after the Mozart 100 run with its 17:30 hours of running was understandably even harder, and my 5k that day turned into a 5k walk. Two days after Mozart, September 6th, I decided to end that streak. 59 days total wasn't bad – but secretly I hoped to get to 100. When reflecting on it later, I decided to not repeat this open-ended streaking, though. Running a lot is fun and good, but I didn't love the artificial obligation to get out on days on which it just didn't fit well.
🌱 200 Plant-Based Days
In my halftime post I wrote extensively about how that new thing was going. During this second half of the year, not much has changed except for me adapting a bit more slack due to the big buffer of successful days I had already in the bank. The twelve months contained the following amounts of days on which I went 100% plant-based, with a clearly visible downwards trend in the end:
January: 19
February: 20
March: 24
April: 23
May: 20
June: 17
July: 20
August: 20
September: 18
October: 16
November: 12
December: 13
Which brings the total to 222 Days. 🍾
My main take-away from this new habit is that it's great and should be kept up. I'll be ditching the 100%-per-day-rule though. I slipped into the habit that when I sacrificed a day by eating an egg for breakfast, for example, I tended to then go all-in on the remainder of that day and had some cheese too.
That's the reason this challenge makes sense. You learn about what the best way is to motivate yourself to pay attention to what you're putting into you body. This has pushed me quite a lot. I will stop counting the days starting January 1st, 2022, but I'll certainly stay at least at the same amount of plant-based nutrition as I have in 2021 when seen in sum. That habit is here to stay.
💪 Monthly Challenges & Other Sports
It started out well with a 50 push-ups every day accountability messenger group, but sadly almost everyone lost the motivation at different stages in the year, including me. This isn't great and I want to at least get some planking and push-ups back into the daily routine.
🚴 Biking is still a big part of my life. I didn't do many longer outdoors rides except for the daily kid commutes, but I bought a stationary trainer (Wahoo KICKR Core) in summer to get back onto the Zwift train. This has been increasingly fun and right now I'm on a quest to do all the available virtual routes on it. Recently I did one 108 kilometer route called "The Mega Pretzel" with my friend Mathias on the phone which took us 4:30 hours but was oddly satisfying. We're already planning the next long rides on it.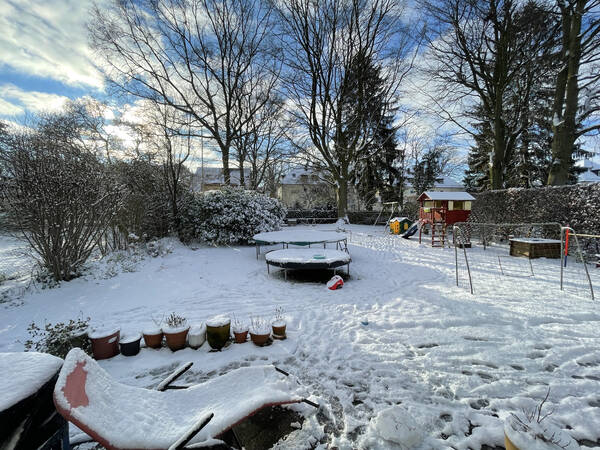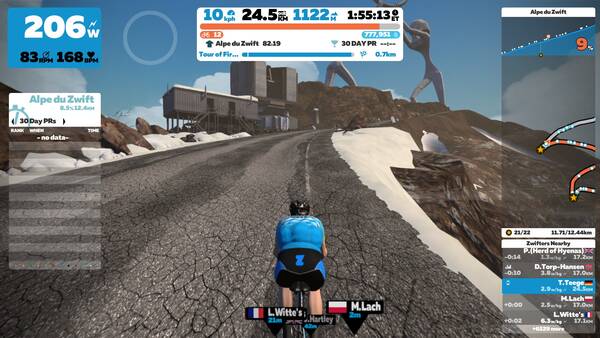 🏊 Swimming didn't really happen due to COVID. I went to a swimming pool once but felt quite exposed because people were allowed in it who weren't vaccinated – and it was filled up to the roof with people. It just isn't the time for indoor swimming these days.
In October I started an ambitious streak which consisted of:
No Alcohol
No YouTube
No Social Media
Daily Workouts (Core, but also Pilates, Yoga, Meditation, or Wim Hof breathing counts)
It lasted for two weeks during which I felt great, obviously. But then, the devil came back. Mostly it's been the beer I missed.
🚀 The Goals of the Decade
Time flies, the new decade is already 20% done. At least according to the way I'm counting.
#1: Qualify for and finish Western States 100
I thought about ditching that goal for a while but changed my mind again. For now, the necessary qualifier races seem to be great anchor points for me to stay on top of tough ultra running. Since finishing Mozart 100 I'm sure that this will keep adding quality to my life. Here, there's no more I can do than just do one of the ultras per year and enter the lottery. I did so recently for the first time with my one Mozart ticket and watched the drawing livestream excitedly. My chances of winning were abysmally small (6.208 applicants total, 3.318 applicants with just one ticket like me) at 1.15% but they roughly double every year you keep on participating. I have already picked a race for 2022 and look forward to that and to watching the lottery drawing livestream as well – this can become an annual tradition.
#2: Sub-3 Hour Marathon
As you read above, no progress here in 2021. I have a plan in place for spring 2022, but as Mike Tyson said:
Everyone has a plan until they get punched in the mouth.
😉 We'll see about that!
#3: Growth of my Company's Team Size to 10
Right now, we're six employees total. Because 2021 was the year of stability for me, I tried to just make it through the year at that level after 2020's quick growth from two to these six. (There was a seventh one for a while but we had to part ways unfortunately.) I'm glad we did it this way and focussed on making this new team feel like a team first.
A company retreat to Harz mountains definitely was a highlight in the business area for me.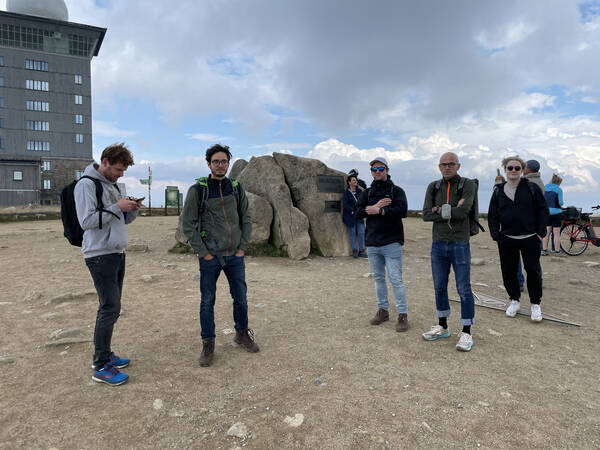 At this moment, while we're grateful to have a lot of large and interesting jobs to do at the same time, I can see the company growing by one or two more people. But first I will make it a priority to take care of the core team. One of those new jobs is:
👟 42_16
Together with my friend Michael Mankus and new acquaintances Henning Lenertz and Martin Grüning from the German Runner's World magazine, we have created a new event for 2022 which is called 42_16 – take a look at 4216.de, and which is a virtual challenge to run a marathon in every German state during the year. There are 16 states, hence the name. Of course, the technical side of this idea will be taken care of by my company. Also of course, I would like to run many, if not all, of the 16 myself.
Recently, we were happy to receive a virtual handshake in agreement to sponsor the idea with a substantial amount of financial help by Swiss running gear company On. 🙏
For me, it seems like the stars definitely aligned with this task: combining my favorite hobby, running, with my work – in addition to doing that together with my running heroes Micha and the guys from Runner's World, seems better than a lottery win. 😎
📝 Conclusion
I sure can say I was able to end the year on a high note. I am very grateful for that and appreciate it even more when put in contrast to the lows of 2021. The wheels are in motion, they keep spinning into 2022 and hopefully gain some more power, even. The main thing I have learned is that putting yourself out there and showing what you're passionate about is the only way to get closer to what you want in life. Writing about it on here sure is a part of that effort and a fun activity in itself, too.
As has been tradition for six years now, I will follow up on this and post my 2022 goals here in a few days.
Drop me a line below if you feel like telling me something – I have been really enjoying the messages. Otherwise, I hope you all reached some of your goals in 2021 too, learned something along the way and remembered to enjoy the ride as well!
Keep going, everyone!
How do you feel after reading this?
This helps me assess the quality of my writing and improve it.